What are the advantages of outdoor LED display?
The large-sized, dynamic, audio-visual LED advertising can fully activate the audience senses, effectively convey information and guide consumption.
Outdoor LED displays are generally installed and installed in shopping malls and other areas where traffic is concentrated. Through high-frequency communication with the user community, it stimulates consumers' strong desire to purchase and increase brand awareness.
Outdoor LED advertising can be played around the clock. It's easier for the audience to see it. It can better guide the potential customers and enable them to achieve better publicity results with less cost.
4. Low Audience Responsiveness
Outdoor LED advertising can use real-time technology to broadcast programs to more audiences in real time. Including special topics, columns, variety shows, animations, radio dramas, TV dramas, etc., with rich content, avoiding contact barriers caused by the conscious and active avoidance of advertising audiences.
5. Energy saving and environmental protection
The LED display's light-emitting components are LEDs. Since the power of a single LED is very low, it is generally 0.04~0.08W, and the power is several times lower. The effect is much better. The material of the LED display screen is the environmental protection material used, which belongs to the recyclable type and will not cause pollution and damage to the environment due to the large amount of use.
6. Release information is simple and convenient
By connecting to a computer via a data cable connection or a wireless communication method and setting it on a computer, advertising content can be published, which is convenient and fast.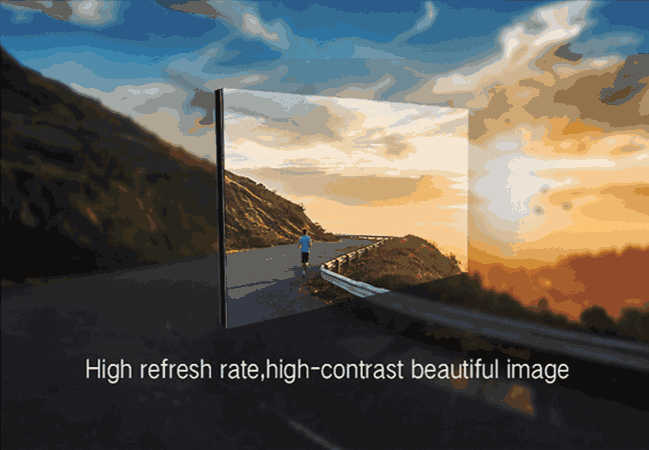 P8 outdoor led display high protection, dust, waterproof, anti-corrosion
Adopts a special waterproof module for outdoor use and an extremely well-sealed waterproof box. It is not necessary to worry about the unique mask design of water-vapor-eroding screens. It is dust-proof, waterproof, and corrosion-proof. The protection level is up to IP65.
model
P8
Pixel unit module
Pixel pitch(mm)
8
Pixel density (dots/sqm)
15625
LED type
SMD
Module size(mm)
W256×H128
Pixel composing
RGB full color
Pixel unit screen
screen size(mm)
1024*1024mm
module Resolution (nits)
32*16
Cabinet structure
Water-proof
installation
fixed on the back
screen material
magnesium alloy
Protect degree
IP65 front ,IP54 rear
Viewing distance(m)
8~100m
Brightness(cd/sqm)
7000 cd/sqm or 7000 nits or more
Power consumption (w/sqm)
Max 900W/sqm ,can be custom make 500W max
Driving IC
1/4 scan MBI Brand Driver
Refresh rate(HZ)
≥2000- 3000
Viewing angel(c)
H120 V110
Other parameter
Image adjustment
contrast, tonal, the color saturation, gray calibration coefficient, color range, image variable times, etc
Image processing
Video noise reduction, fast motion compensation, edge to sharpen, edge smooth, color space transformation and control, coordinate transformation of grey scale, etc
Brightness uniformity
The whole screen on the monochrome, minimum pixel luminance and the brightest pixel luminance than more than 0.9
Gray
65536
Color temperature/contrast
Red, green, and blue brightness and contrast can through the software level 100 adjustable, color temperature can be adjusted according to need
Transmitting Distance
The shielded twisted-pair cable transmission distance for 100 meters, the biggest up to 140 m. Multimode fiber of up to 500 meters, the single-mode optical fiber to 20 kilometers
Input Signal
RF,S-VIDEO,RGBTV,YUT,YC,COMPOSITION
Control System
PCTV non-liner editing card+DVI display card+main control card+optic fiber transmission(Optional) or video dealer
Average No Failure Time
20000 hours
Life span
100,000 hours
Out-of Control rate
0.0001
To floor drain current
Less than 3.5MA
Control system
Synchronized
Operating Environment Temperature
-20°C—65°C Optional